This is just too easy to believe. I have been suffering all kinds of stress thinking that my computer is messed up and I would have to go into some deep files to fix it. The problem was with my ' task manager '. I no longer was able to see any of the tabs other than ' tasks ' and ' status '.
To fix this problem what you have to do is double click on the frame. Thats all folks.
I have learned that when you have any type of problems with your computer don't try and fix it until you find an easy fix. These days everyone seems to have an opinion on how to fix a problems and many of these fixes include things as drastic as re-installing the OS. The computers today are quite easy to fix but you might have to spend a little time finding the best fix. Do not re-install your OS until all else has failed.
Also, before you go crazy and call your customer support do a Google search for the problem you have and try to fix it yourself. Many people at customer support are more in the dark about the problems that crop up than the people on the net. Support will be quick to give you a problem fixer that includes downloading an update when you simply do not have to and nine out of ten times the download will do nothing for your original problem. What does the service customer support guy have to loose? If it doesn't work they will either give you another 'follow the book' idea or tell you to do something that will take a day of your time to get you back to working order. There are reasons that customer service techs are needed but after 10 years and a number of different computers I have yet to find what the reasons are.
I hope that someone with the task menu problem finds this post and is relieved as I was when I double clicked the frame.
Good luck and happy computing ….
Years ago I made a design for a mouse pad that was perfect for the situations I would find myself in with my computer back then ….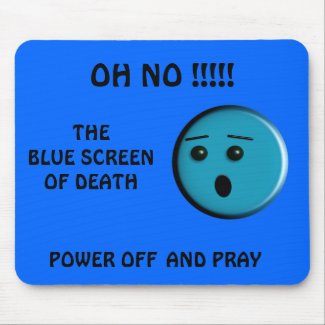 Blue Screen of Death – – Customized – Customized Mouse Mat
by
kahmier
Shop for more
mouse pads for computer
desks at Zazzle